RELEASES – "Brand-New"
THE ELECTRIC MESS – The Beast Is You LP/CD (SFR-090 / SFR-CD-042)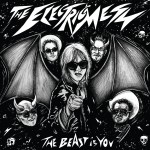 A:                                                    B:
Disconnected                         You Can't Hide
We're Gonna                          Crash Plastic Jack
I'm Gone                                    It Happens All The Time
You're My Overdrive         Mystery Girl
Snow Queen                           Read You Your Rights
No One Gets Out                 Out Alive
The Beast Is You                   Yes, Future
Brand-new LP "The Beast Is You" by New York's brilliant ELECTRIC MESS has arrived! This album is loud, wild and completely electrifying.
The record absolutely catches the band's powerful mixture of 60s rock, punkrock and 80s garage-revival with incredibly cool vocals by tough frontwoman Esther Crow, wild guitars and rockin' beats. "Disconnected" or "Snow Queen" display a little more their wild punkfacet, while "You Can't Hide" and "It Happens All The Time" go more in the 60s garage-direction with catchy songwriting, a stomping beat, and rockin' wildness. "Mystery Girl"again has more of a pop-punk-side to it with a slightly softer tone and fantastic harmonies.
The most downtempo-song of the album is also its final one, adding a slightly different touchto it and with singer Oweinama Biu's vocals reminds one a little bit of David Bowie.
All in all "The Beast Is You" is a fantastic album by a fantastic band that leaves nothing to be desired!
FLAMINGO TOURS – Lucha Libre LP/CD (SFR-089 / LCM 2018002)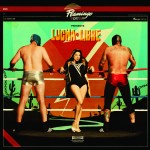 A:                                                   B:
Guerrero                                   Dance To The Devil
Si Me Abrasas                         Dia De Muertos
Mexican Dogfight                 Savages
Sangrita                                      Agarrame
It's Cheaper                             Rosita Went To Jail
FLAMINGO TOURS from Spain play their very own mixture of rhythm'n'blues, rock'n'roll, exotica and a touch of soul, surf and garage music. You can hear rockin' guitars, a rhythmic beat, an incredible soulful female voice à la Etta James, Gizelle or Derriere – elements like a dreamy steel guitar here and a groovy hammond organ there, and naturally you can also feel the wild Spanish temperament.
After their debut album "Right On Time" on A-WAMBA RECORDS and two 7"s, their second LP is released on SOUNDFLAT RECORDS in co-production with LA CUPULA MUSIC.
"Lucha Libre" starts off with the rockin', wild "Guerrero", introducing singer Myriam Swanson's powerful voice, which is absolutely breathtaking. The off-beat vocal-surf-tune "Mexican Dogfight" fits in well among the cool bar-tune "Sangrita" with its jazzy hammond-organ and beautiful Spanish ballads such as "Si Me Abrasas" and "Agarrame". The dramatic rhythm'n'blues-tune "It's Cheaper" instantly gives you goosebumps and charming singer Myriam Swanson almost sounds like Amy Winehouse.
"Dance To The Devil" opens up the B-side as a fun rok'n'roll dancin' tune and with "Dia De Muertos" follows a slower, smooth exotica-tune. Finally the band even adds some country-elements like steel guitar and accordeon, to the Mexican/American-sounding "Rosita Went To Jail".
So make sure to save yourselves a copy of "Lucha Libre", the simply fantastic second
album by Barcelona's highly talented FLAMINGO TOURS!
LES KITSCHENETTE'S – C'est Pas D'la Physique Quantique, Du Chant Grégorien, Ou Du Lapon! 10″ (SFR-10-004)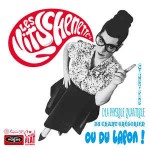 A:                                                               B:
Cauchemar Pop – Part 1              Cauchemar Pop – Part 2
Le Jerk À Pépé                                   Envoie-Moi Un Sexto
Écoutez!                                                Ne Te Crispe Pas
Jusqu'en 66                                         Un Jeune Homme Bien
Here is the final part completing the KITSCHENETTE'S-10"-trilogy! Matching the previous two records in colours – vol. 1 is coloured red and vol. 2 is held in blue colours – vol. 3 with whitecover-design including transparent vinyl (and printed inner sleeve) visually completes the "tricolore" French flag. But those records are not just matching perfectly in the visual respect, but naturally the sound corresponds just as much. So expect some very French 60s-Yéyé/Freakbeat with a groovy hammond-organ, fun guitars, a cool saxophone here and there and the enchanting vocals of singers Lucille and Ludovic taking turns.
Starting off with an instrumental coverversion of the original soundtrack of the Louis de Funes-film-classic from the 60's "Les Grandes Vacances", you dive right into that groovy 60's-sound, that is fun and gets you in a happy-go-lucky mood right away. Followed by a catchy, organdriven version of Andre Verchuren's "Le Jerk À Pépé", you get the fabulous "Écoutez", originally by 60s-Yéyé-Girl ELSA, now in a charming KITSCHENETTE'S manner. Their French interpretation of the classic "Route 66" with its surfy guitars adds a little more Rock'n'Roll to the record while still keeping the sound French all the way through.
The B-side starts with part 2 of Cauchemare Pop, followed by a fantastic French version of the often-covered "Send Me A Postcard" (originally by SHOCKING BLUE). "Ne Te Crispe Pas" is a more uptempo, organdriven, French approach to Jimmy Reed's blues-hymn "Help yourself"- ideal to dance and sing along to at any swinging 60s-dance-party!
Rounded up with "Un Jeune Homme Bien" – a coverversion of THE KINKS' "A well respected man" – this record leaves nothing to be desired if you're into great French 60's beat!
Don't miss out on this brilliant piece of vinyl, perfect for collectors and lovers of good music!