RELEASES – "Brand-New"
THE LET'S GO'S – Heibon Cherry LP (SFR-LP-102)
A:                                     B:


Heibon Cherry                    Lovesong Nightmare 
Kaiju Let's Go's                  Highball 
Traveling Girl                     Can't Sit Still Anymore! 
Leather Boots                    Teenage Monster 
Wild Thing                         I Like Your Band 
Everyday People                1,2, BOMB! 




Imagine a female Garage-version of THE RAMONES, then add some crazy Japanese spirit and you'll get THE LET'S GO's!
The Tokyo-based girly power-trio was founded in 2006 and ever since has released 3 albums on CD, a couple of 7"es, appeared on a few Japanese compilations and played numerous unforgettable liveshows and tours throughout Japan. Their next stop is a US-tour this upcoming summer and their next  goal to conquer the world! Consequently, a release on SOUNDFLAT RECORDS seemed absolutely essential!
And here it comes, their brand-new album "HEIBON CHERRY" is full of pure energy with 12 rocking tunes to go wild to! Alongside wild punk-anthems like the title-song "HEIBON CHERRY" or "Lovesong Nightmare" the girls also added songs like "Traveling Girl", that has a slightly calmer and catchy Japanese PopPunk-melody and thereby makes the album diverse and fun at the same time!
These girls seem to have punk'n'roll in their veins, not least because the band features GUITAR WOLF Seiji's daughter. A power-record that needs to be listened to at maximum volume and certainly shouldn't be missing on your Garagepunk-shelf!
So, 1, 2, 3 – LET'S GO!!
BAD BEATS – Off The Hook LP/CD
A:                                     B:


What You Trying To Say

      

Off The Hook

 


Ain't No Friend Of Mine

       

Friday Night

 


Don't Mean Nothin

             

Come Back Home

 


T

o

o Bad

                            

Gooseback Machine

 


The Way It Is

                    

Can't Understand

 


Inside Looking Out

            

Waiting Around To Die

 

Garage rock is alive and well in 2019. It lives in the alleys of East Vancouver, born and bred in the traditions of the Pacific Northwest and raised on Pebbles and Nuggets. Armed with a Fender Telecaster, an Acetone organ, and a soulful frontman whose harmonica work might send Little Walter to AA, it finds many new converts and takes no prisoners. It is THE BAD BEATS.
Following on the success of 2016's "His Vengeful Hand", incendiary local shows and a handful of recent tour dates on the other side of the Atlantic, THE BAD BEATS serve up a dozen high-octane blasts on their second SOUNDFLAT-release, mixed in mono for your lo-fi pleasure.
Eight blistering originals complement the four covers on "Off The Hook", including THE ROLLING STONES' title track and a haunting version of the TOWNES VAN ZANDT ballad "Waiting Around To Die". The lone instrumental, "Gooseback Machine" is a straight-up driving blues jam featuring a guest aappearance by Canadian ex-pat Spencer Evoy (MFC CHICKEN) on sax.
The album fills out with a sonic barrage of three-minute garage shock morsels guaranteed to keep your head bobbing and knee jerking. Hey Hey, My My, Garage Rock Will Never Die. Or is it, My My, Hey Hey, Garage Rock is Here to Stay? Either way, long live the BAD BEATS!
CAYMAN KINGS – Marigold Under Scales LP
A:                             B:


Pink & Blue                 Workplace Wellness 
Mercy Kill                   I Wish I Had More Time
Live In My Time          Less Yarns More Barns
Gorgeous Enough        Shaming Prince
Charles' Theory          Gore & Glory 



Finally the wait is over – the brand-new album "Marigold Under Scales" by the fabulous CAYMAN KINGS is here – and what a smashing hit-album it is!
The album is released on LP (SOUNDFLAT RECORDS) and CD / Digital Download (WTPS MUSIC) and it builds on its predecessor "Suffering Chelsea Boots" nicely, while the psychedelic influence is a little more distinct than before, not just through its trippy coverartwork.
Starting off directly with the wild "Pink & Blue" with its heavy organ, fuzzy guitars and vocal harmonies, one certainly cannot deny their 60s Garage/Freakbeat-influence while the boys remain true to their fresh, unique sound that by no means sounds old-fashioned.
If it is "Gorgeous Enough" or "Workplace Wellness" with more of a wild and fast Garagepunkattitude or "Live In My Time" with a touch of folky components – you simply get addicted to these catchy tunes with striking vocals, infectious rhythm and beat, wild guitars and raving organ.
Finally "Less Yarns More Barns" and "Gore & Glory" mark the more psychedelic tunes of the record with reverb, jazzy organ, a more symphonic, experimental composition up to oriental psychedelic elements.
An incredible new album by these wild French boys, which won't leave your record player again easily!
THE SATELLITERS – Nothing Left To Tell 7″
A:                                     B:


Nothing Left To Tell             You







German 60s Garage Punk-heroes THE SATELLITERS just added a new 45 to their discography, and thereby yet another two outstanding modern-day 60s Garage-hits!
Since 25 years we have known and loved the characteristic SATELLITERS-signature-sound, which mixes authentic 60s (recorded with original vintage equipment only) containing just the right amount of fuzz-guitar, hammond organ, harp and a psychedelic Freakbeat-influence with superb songwriting and the unmistakable vocals of lead singer Steve. And this sound is exactly what you can expect to hear on this new 7", which is an anniversary edition to celebrate the band's 25th birthday and comes in a brown papersleeve with an authentic vintage label, just like the original 60s Garage 45s.
The A-side "Nothing Left To Tell" intrigues with its prominent guitar, a catchy melody and a cool beat, while it reminds one a little of their famous songs such as "Lost In Time" and has no less hit-potential. The B-side "You" will capture you just the same with a cool SEEDS-/MUSIC MACHINE-kind of mood to it.
Once again two smashing hits by the German kings of 60s Garage – a true jewel for collectors, DJs and lovers of good music!
LOS RETROVISORES – Desmelene En El Quinto 7″
A:                                     B:


Theme Of The Tomboys       Ring Me




Donut!                               Please Remember Me





After their second LP and a few 7"es, the Spaniards LOS RETROVISORES are ready to present their brand new 45 on SOUNDFLAT RECORDS in cooperation with BCore Records: "Desmelene En El Quinto"!
As the coverartwork of the EP already gives away, the sound of it is musically located a little more towards the end of the 60s. Starting off with the brilliant and highly addictive "Un, Dos, Tres", they generate an instant dance-mood! A groovy beat, a highly catchy melody, vocal harmonies, a cool fuzzy guitar and the wind section to top off a full sound. While they are predominantly influenced by the 60s, the Catalan band always keeps their Spanish temper within their songwriting, and not just through the fact that they all contain Spanish vocals. "Pedir Perdon" features this attitude nicely, especially through the Spanish sounding wind section.
With "Dia De Suerte" they included a fantastic Spanish coverversion of the 60s dance hymn "Looking For Something Better"by THE RO-D-YS among their own compositions.
"No Puedo Evitarlo" has a more soulful, funky touch to it and keeps you in a good dancing mood till the last second!
A fantastic EP by a brilliant band, that not only keeps the 60s spirit alive, but rather updates it in a fresh and infectious way!
THE TOMBOYS – Here We Come! TheTomboys! LP
A:                                     B:


Theme Of The Tomboys       Ring Me




Donut!                               Please Remember Me




Go Merry Go!                      Koi No Deal 6700




Saturday Night                    Help Me Somebody




Vacation                             The Wild One




To Mr. Valentine                   It's All Happening




Fruit Candy                         Tell Me Why
The Tomboys are a young 4-piece girl band from Kobe, Japan that take classic rock mood and style and mash it up with modern-day pop music in a delightfully-sweet powerpop-way that is taking Japan by storm and soon will take over the whole world!
Their debut-LP "Here We Come! The Tomboys!" is not only covered in some very eye-catching artwork, but its sound is equally catching! The "Theme Of The Tomboys" already summarizes very well what these four girls are all about – fun garage-pop-punk-rock'n'roll with girly squeaky vocals and some crazy Japanese elements. A combination that is absolutely fun to listen to and highly addictive. "Go Merry Go!" is like a fun rock'n'roll party with punky guitar-sounds and a catchy melody, while "Saturday Night" sounds like a Japanese girly version of THE RAMONES, so you simply have to love these girls' straightforward sound! "Vacation" comes across as a cool, rocking song, that reminds one a little of the Japanese beat-kings THE NEATBEATS here and there, and"Ring Me" is a fun pop-punk-tune that is absolutely catchy, just like the rest of this album. With "Fruit Candy" and "Koi No Deal 6700" they added two songs with Japanese vocals.
Don't miss out on this fantastic LP that has conveys an immense portion of energy, fun and Japanese craziness!!
THE




WYLDE TRYFLES – Go Fuzz Yourselfe LP

 

(SFR-098)
A:                                  B:


Silly Thing                       I'm Movin' On


No Means No                   Bad Game Of Love


Who Knows                     No Shame 


Do It                              Creepy Crawly


Heartbreaker                   Kill Me


Don't Leave Me Alone       Can't Tame Me


Hangover Baby





THE WYLDE TRYFLES from Bordeaux, France, deliver an ultra-fuzzed out 60s punk mayhem. After their 10" "Upside Down" (SOMETHING WEIRD) the band now releases their incredible debut LP "Go Fuzz Yourself" on SOUNDFLAT RECORDS.
THE WYLDE TRYFLES combine a punky fuzzguitar, crazy organ, a lot of energy and wylde, reverberating female vocals by powerful frontwoman Lubna Bangs. Highly influenced by 60s garagepunk that can be found on the BACK FROM THE GRAVE-compilations among others and the 80s garagepunk revival-sound of bands such as THE GRAVEDIGGER V or THE PRIMATES, THE WYLDE TRYFLES deliver their very own cool mixture of raw and primitive garagepunk and rock'n'roll!
Their own compositions, such as the screaming "No Means No" or the melodic "Heartbreaker" are just as catchy and wild as their wild coverversions of the garagepunk-classics such as THE SOUND EXPLOSION's "Hangover Baby", "I'm Moving On" by EVIL and THE BENDERS' "Can't Tame Me".
A wylde 60s garagepunk debut-LP by THE WYLDE TRYFLES, that definitely should not be missing on your shelf!
V/A – Soundflat Records ballroom Bash Vol. 12 CD (SFR-CD-047)

THE GENTLEMEN'S AGREEMENTS             THE HARA-KEE-REES


1) Shake It Out                                          5) Out Of My Head


2) Nouvelle Vague (Vocal)                           6) Some Trouble


3) Trapit                                                    7) Keeping Me Down


4) Ride On Baby                                         8) Every Night


 
         
  LES ENVAHISSEURS      KING CORNELIUS & THE SILVERBACKS      THE READY-MADES


   9) My Gorilla                  13) I Am Great Ape                                         17) Le Netocrate


  10) Keven                       14) (Mighty Mighty) The Great Ape                   18) Intervention Horizontal


  11) Le Fil Des Jours         15) Manila Gorilla                                            19) Baleine Ou Cigogne


  12) Voodoo Working        16) Those Apes                                               20) Ouagadougou Blues

                                 LES SEPARATWISTS                THE BARKELLITERS
                                21) Istanbul Twist                       25) Let Me Hear You Say Woof


                                22) Melonball Twist                     26) Lost In Woof 


                                23) Positively Mortified




                                24) Ruby's Mood
Here comes the 12th edition of the Soundflat Records Ballroom Bash compilation CD – the "soundtrack" of our legendary annual label festival. Like every year, this CD contains songs (- partly previously unreleased!) by each of the bands playing at this wild festival in Cologne. This year the compilation features songs by THE GENTLEMEN'S AGREEMENTS, LES ENVAHISSEURS, KING CORNELIUS & THE
SILVERBACKS, LES SEPARATWISTS, THE HARA-KEE-REES, THE READY-MADES and THE BARKELLITERS. This CD is a fantastic item for your personal collection of Garage&Rock'n'Roll-memorabilia and souvenirs, but also a great selection of today's 60's Garage- and Beat-bands. A CD that shouldn't be missing from your shelf!

THE GENTLEMEN'S AGREEMENTS – Wild Freakbeat/Mod-sound with a groovy organ
The Gentlement's Agreements started in 2011 as a side project of five friends/musicians (members of Towerbrown, Sheetah Et Les Weissmüller, Penelope, The Fuggets and Les Braqueurs) – and what came out of it is a crazy and powerful Freakbeat/Mod-sound! Blue-eyed soul with a jazzy organ to shimmy and shake to!

LES ENVAHISSEURS – Powerful 60's GoGo Garage!
A combination of partly English, but mainly French male vocals and female (background) vocals harmonising with some wild guitars and keyboards add up to a fine 60s Garagerock with a French Yéyé-touch.

KING CORNELIUS & THE SILVERBACKS – Monkey Power-Pop-Garage-Pop-Punk directly from the Jungle!
One real monkey, hunted and captured by a sturdy band known as THE SILVERBACKS will kick your ass with a brilliant fun surf-pop-punk-sound direct from the jungle! Chimpanzee Garage Pop-Punk meets Jungle R&B!
LES SEPARATWISTS – Sleazy Burlesque Tittyshaking R&R-Twist
LES SEPARATWISTS will take you on a journey through time with their exotic, seducing mix of instrumental 50s/60s Surf, R'n'B and Twist! A cool saxophone, twangy guitars and a hot rhythm from beginning to end!

THE HARA-KEE-REES – Raw mid-sixties Garage-Beat & Punk explosion Not only their live-shows are full of power due to their fuzz-guitarsound mixed in a cocktail of driving
organ, crying sax, wild bass and drum-rhythm and the top-noch vocals that will take you all to a manic, wild jump, jive and harmonise ecstasy.
THE READY-MADES – authentic 60's R&B-Soul-Beat with unbelievably charming but powerful female vocals!
The Ready-Mades are the sensation of R&B and Soul heaven! This band knows how to get people to dance. They have the right mix of American black music of the 50s & 60s together with British Beat music and French YéYé sounds!

THE BARKELLITERS – Woof, Woof, Woof… … and I said Woof, from Woofsville!
The Barkelliters are four doggish Satelliters-Fans, who will cover some of their favourite songs by their favourite band, The Satelliters. A must for all "garage-dogs"! 100% trash-factor!
THE READY-MADES – Autogestion Sentimentale LP/CD (SFR-097 / SFR-CD-046)
A:                                  B:


Intervention Horizontale  

(You'd Better) Watch Me


 


If I Can't Dance              Sophia Antipolis 
Lady Maddie                   Méta-Cigare
La Main Invisible             Where Am I Right Now?
Pretty Like A Truck          Bungalow 
Château Lascar               Ouagadougou Blues 
After their single releases "Cut And Run"(Soundflat Records) and "Ouagadougou Blues"(Burru Records) THE READY-MADES present their brand new album "Autogestion Sentimentale" on Soundflat Records. Powerful front-woman Barbara Stressante and her talented boys from Paris are THE sensation of R&B- and Soulheaven! They have just the right mix of American black music of the 50s & 60s together with British Beat music and French YéYé sounds! You will start dancing instantly once you play this record – if it is cool and classy French YéYé-tunes like "Intervention Horizontale" or "Sophia Antipolis", hot R&Btunes like "Bungalow" or the jazzy instrumental "Château Lascar" with its dirty saxophone – this band will simply make you sweat with their groovy, perfectly arranged R&B-songs, all self-composed, and this incredibly soulful voice! "If I Can't Dance" and "Where Am I Right Now?" will absolutely steal your breath while reminding you of a female version of NICK WATERHOUSE and the mindblowing "Ouagadougu Blues" will finally leave you with goosebumps all over. An authentic dark, soulish 60's R&B-sound with a rhythmic beat, the perfect amount of French YéYé and outstanding songwriting!
THE KAISERS – Ruff'n'Rare 10″/CD (SFR-10-005 / SFR-CD-045)

A:                                              B:


Treble Twist                                Cavern Stomp
Skinny Minnie                             Nadine
Little Devil                                  Ya Ya


Angel Of Love (Spanish Version)

   Just A Littel Bit


New Orleans 

                              Sally Sue Brown


THE KAISERS are a four piece group from Scotland who are hailed as the stomping-est Beat group since Rory Storm first wrecked the stage at the Kaiser-Keller. Taking their inspiration from legendary feats of entertainment such as THE BIG THREE, KINGSIZE TAYLOR AND THE DOMINOES and THE UNDERTAKERS, their set consists of breathtaking "cult status" original songs along with re-workings of Rhythm & Beat favourites and obscurities. Over their 26 year long career the group have been prolific in writing, recording and releasing 6 LPs, a dozen EP's, 4 45rpms as well as appearing on numerous compilations. Their writing and performance skills have won praise and admiration globally – they have played sessions for BBC DJs John Peel & Mark Radcliffe, appearances on UK and USA television, as well as recently being listed number 10 of the "TOP 20 Best Scottish Indie Rock Bands of the 1990s" Here comes their new 10" and CD "Ruff'n'Rare" on SOUNDFLAT RECORDS, which consists of ten unreleased outtakes and alternative versions from studio sessions between 1993 and 2000, all of which were recorded by Liam and James Watson at the famous Toerag Studios in London and Chamber Studios in Edinburgh.
THE FADEAWAYS – Transworld 60's Punk Nuggets! LP (SFR-096)
A:                                B:


Sorry                           

Test Driver

 
I Don't Care                  

Lie, Beg, Borrow & Steal

 
Shake It Some More      

Nothin'

 
Things She Says            

I'll Be Doggone

 
Little Lover                    

How Do You Feel

 
Born Loser                     

Midnight To Six Man

 
We're Pretty Quick          

I'm Just A Mops
After their raving debut album "Teenage Hitsville" the wild garagepunk-trio from Tokyo THE FADEAWAYS have a new vinylic gem to offer: "Transworld 60's Punk Nuggets" is THE FADEAWAYS playing a selection of their own favourite garagepunk classics and interpreting them in their raw, low-fi, powerful way.
As soon as you put the needle on the record it's impossible to sit still while absorbing this raw energy coming from the speakers! Starting with "Sorry" (originally by THE EASYBEATS), which alongside "Midnight to Six Man" (originally by THE PRETTY THINGS) was actually one of the first songs the band used to practice when they first started playing together, the album presents you with 100% wildness from beginning to end. With "I'm Just a Mops" (THE MOPS) and "Test Driver" (THE BUNNYS) they also added two brilliant Japanese 60's classics.
These boys obviously not only have great taste in music, but they definitely also know how to deliver it!
THE REVOX – In Mono LP (SFR-095)
A:                           B:                                       


Father in Low          Axis
Gloria Stompers     Never Ending Trip
Three For Love       She's So Fine
I Need Love             Hey Joe
Out Of My Mind

  

Beyond The Dreams Of My Youth


Hailing from the steepest Alpine summits of Switzerland, THE REVOX are here to deliver 10 new stomping pieces of wild Rock & Roll and are ready to kick you in the most sensible parts of your anatomy!!!
Recorded and mixed at the all-analog Shirts Off Studio in Bern by the talented Sebastian Zwahlen along with the tedious production talents of Robert Butler, plus equalization and mastering perfection by the mysterious Adi Flück from Centraldubs in Bern – this LP will certainly make you dance, unless you got no soul.
THE REVOX are musically oriented towards the mid-sixties – their trademark is raw, fuzzy Garage punk with screaming vocals and pure energy. After their first two albums "The Revox Vol.1" and "Lazy Sunshine" and most recently their wild 7" "Talk About Her" (out on VOODOO RHYTHM
RECORDS), their latest LP "In Mono" (released on SOUNDFLAT RECORDS) continues that very trademark-sound. A wild, punky coverversion of the classic "Hey Joe" bearing a touch of Arthur Lee's LOVE marks the sole exception among otherwise all originals. If it is the catchy "Father in Low", the fiery "I Need Love" or the multi-faceted "Axis" – the trio sure knows how to make great music!
Don't miss out on this fantastic album and be prepared to go on a wild journey with these boys !
LES ENVAHISSEURS – Garage Monkeys LP (SFR-094)
A:                                  B:





House of Evil                   Fonzambow
En Retard                       (Comme) Tourgueniev
Je Ne Crois Pas               Le Fil Des Jours
My Gorilla                       Ottawa
Chaque Chaque Fois        (Je Me Croyais) Mod
La Nuit Du Sadique

          

Tu Le Sens Mon Beat
                                                                         

Trop Snob
After their first 7" "Do The Fonz!" out on AVE THE SOUND the Canadian LES ENVAHISSEURS now release their debut album "Garage Monkeys" on SOUNDFLAT RECORDS. You can expect a combination of partly English, but mainly French male vocals and female (background) vocals harmonising with some wild guitars and keyboards that add up to a fine 60s Garagerock with a French Yéyé-touch.
High energy and intense personae on stage, intelligent lyrics and a perfect chemistry make the unique sound and presence of LES ENVAHISSEURS which tranlate directly to their record.
The album consists of 11 originals and two fantastic covers – "La Nuit Du Sadique", a fabulous French version of the Back from the Grave-classic "Night of the Sadist", originally by LARRY & THE BLUE NOTES, and "Trop Snob" – their very own French version of THE SEEDS' "Pushin' Too Hard". Yet, their own compositions on the album are just as catchy and wild: if it is crazy songs like "House of Evil", "Ottawa" with its BO DIDDLEY-kind of beat or wild Songs like "Tu Le Sens Mon Beat" – these tunes are just perfect to (Go-go-)dance to! Matching the band's name LES ENVAHISSEURS ("The Invaders" in English), they even add a futuristic organ 60s-space-sound here and there.
Make sure to catch these incredible boys and girls on stage and on record – they will certainly blow your mind!
KING CORNELIUS & THE SILVERBACKS – Swinging Simian Sounds LP/CD (SFR-093 / SFR-CD-044)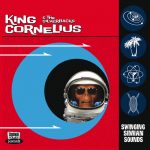 A:                                   B:




Chimps In Space              Manila Gorilla
I Am Great Ape                Simian Shake
Tabu                               I'm A Monkey
Cthulhu                           Apes Of Wrath
Gorilla Milk                      Those Apes




The Only Ape In Space

     

(Mighty Mighty) The Great Ape

 
                                      

(I'll Show You How To) Misbehav

 
From deep within the jungle comes KING CORNELIUS, tracked, hunted and captured by a sturdy band known as THE SILVERBACKS. Working together, they have combined the sounds of the jungle, the jet set and the space age using tones taken from the surf and the garage.

Their debut album "Swinging Simian Sounds" absolutely catches this sound combination – starting off with the fun surf-pop-punk-tune "Chimps in Space" the record grabs you instantly and literally makes you go ape! You get a cool instrumental surf tune "Tabu" with chimpanzee sounds on the one hand and mental garage-punk songs like "I'm a Monkey" on the other. Not least, you will find the beautiful, dreamy ballad "Only Ape in Space" that rounds up the Album perfectly.
Be prepared for the rites of passage to the hidden listening pleasures of "Swinging Simian Sounds" and all it has to offer to the willing and the ready.
You'll never look at a monkey the same way again!